Below is my entry for the Etsy Beadweaver's Team's August "Sea Adventures" challenge: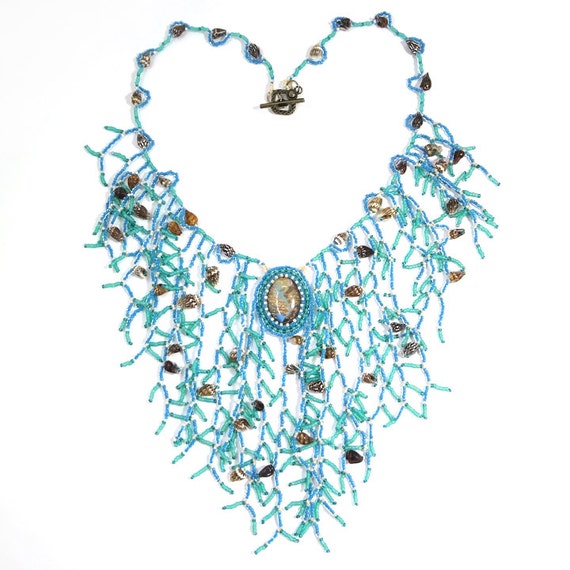 This necklace has glittering blue and sea green glass beads, decorated with light tan delica beads and tiny sea shell beads. Putting it on is like experiencing a trip to the actual ocean!
Except this piece is draws more the the fantasy realm. At it's center is a glass cabochon with an images taken from this collage sheet. The mermaid's silhouette is depicted in an ombre shade of green and blue, reflecting the color palate around her.
I'm not gonna lie, you'll feel like a friggin mermaid princess when you wear this piece. I spent a lot of time making it over-the-top enough for genuine, nautical royalty.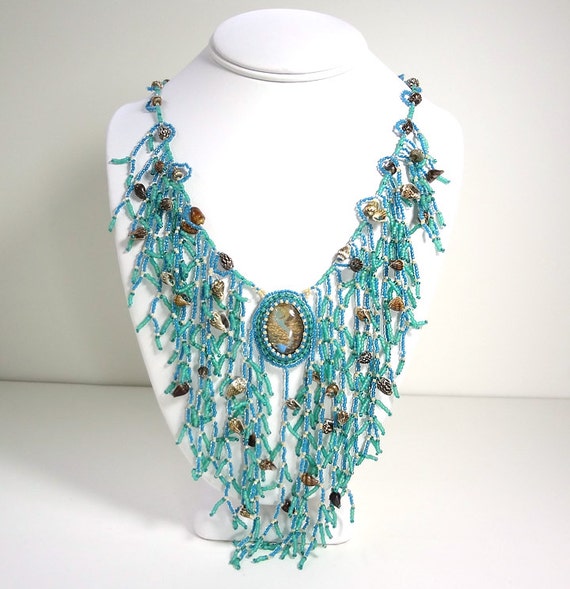 You can view all of the fantastic entries and vote for your favorite over at the team blog:
---
If the above necklace is just a little too over-the-top for your everyday style, but you like the design elements, I went ahead and created a simpler, more approachable version for casual use.
You can purchase this necklace over on Megan's Beaded Designs for only $19 here.
Tagged: beading, Challenge, competition, etsy, jewelry, mermaid, nautical, necklace, ocean