Can you feel them crawling on you?
Don't worry, this isn't a segment from an Indiana Jones movie made to freak you out about spiders and other creepy crawlies.
But I am referring to bugs. Bugs & Beads in fact, the official March theme challenge for the EtsyHeartsBeads team. Voting is going on now, until the 17th, in case you want to stop by and vote for your favorite:
For my entry, I did go slightly creepy, with a sort of avant-garde take on the challenge. I utilized square stitch, and created a beadwoven necklace depicting an enlarged trail of ants. The black bugs will encircle the neckline of whoever dares to wear it. This necklace is meant for whoever is looking for a more artistic take on the traditional black-and-white, and prefers a piece that is going to receive more than one look. Or two. Or three.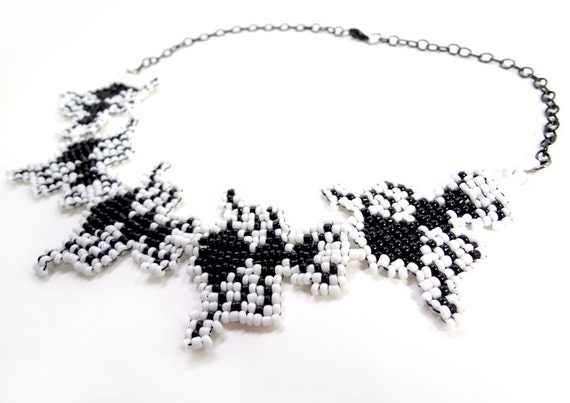 Tagged: ants, beading, beadweaving, beadwork, black and white, bugs, competition, contest, etsy, handmade jewelry, necklace