Last Monday I offered you all a chance to win a PDF copy of my latest eBook for free. The lucky winner has been selected, and will be sent her free eBook later today. (Congratulations Wendy Mueller! Thanks for entering!)
But what about the rest of you? You really need to get your hands on your own copy.
Basically, if you like reading this blog, you'll like reading this eBook. If you don't like reading this blog…
…WHAT THE HECK ARE YOU DOING HERE!?!?!?
*ahem* Just sayin'. Why waste your time reading crap that you don't even like? I'm not a fan of the vampire romance novel, so I generally avoid those kinds of books. Simple selection based on personal taste.
But now, if you DO like reading the crap I conjure up on this WordPress blog, then you're only 3 dollars and 99 cents away from EVEN MORE crap to consume in-between business-minded posts.
Where you can get your copy (for, literally less than the price of a latte):
On Amazon for your kindle
At Barnes n' Nobles for Your Nook
Or, BETTER YET, Instant Downloadable PDF here, here, or here.
Here's a peek at the Table of Contents, just to show you some of the stuff I go over in this eBook: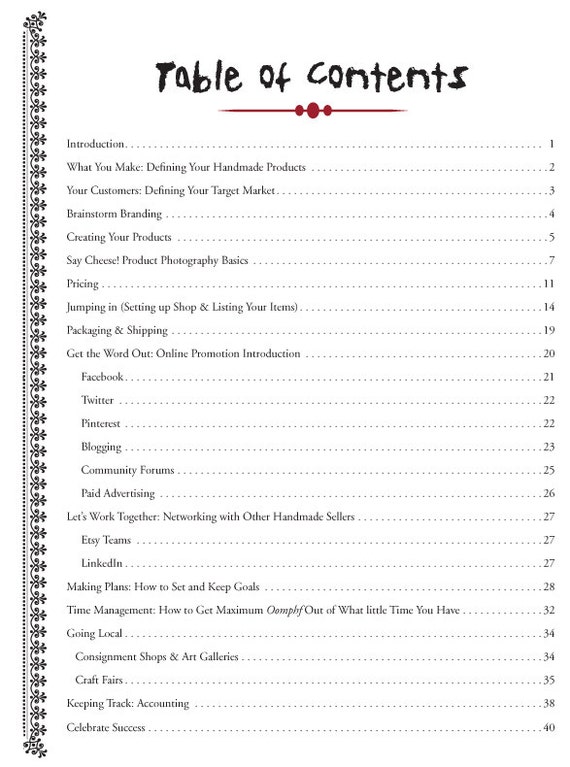 Basically, you'll be getting the same kind of helpful ideas, hints, and tricks you've gleaned from this blog. I start from the beginning and get into more advanced marketing techniques, so no matter where you're currently at with your business, there should be a nugget or two in this eBook for you to challenge yourself with.
Oh, and did I mention it's less than 4 dollars? I did? Well then, there really isn't that much else for you to consider, now is there?
Tagged: artfire, business, cottage industry, craft business, ebook, etsy, handmade, handmade business, internet sales, jewelry business, marketing, success