In regarhds to the wee bit of Scottish lass in me blood (from me mum's side), I couldn't pass up on the Etsy Hearts Beads Team January "Scottish Inspired" jewelry challenge, now could I?
/end Scottish accent.
For my entry, I dug out my much dust-covered beading loom. The poor thing hadn't seen the light of day in ages! And, needless to say, my looming skills were a bit rusty as I tried to remember the proper way to set and take-down my looming project. After a bit of beading on the device, however, it's not hard to understand why looming is so much more preferable to its alternative: the square stitch. When using a loom, all of the beads evenly distribute and align amongst one another, despite any slight variations in the beads.
Taking inspiration from Scottish tartans, I created a plaid design in shades of red, black, white and silver. No, this is not my own personal tartan color (mine happens to be mostly blue), but I couldn't resist the sharp contrast of the matte black beads against the shimmering white and red Tohos.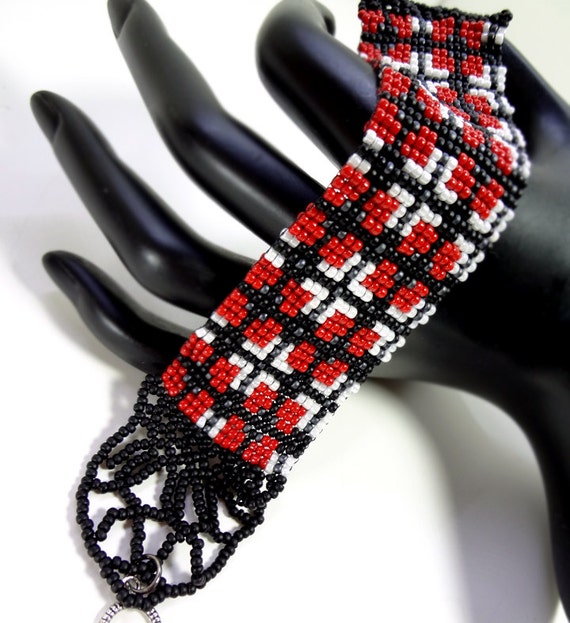 To close off the sides of the bracelet, I wanted to try something unique. So they are both decorated with matte black lacing, netted into an intricate pattern symmetrical to the other side. The bracelet closes with an easy-to-use toggle clasp, and measures 7 and a half inches around when clasped.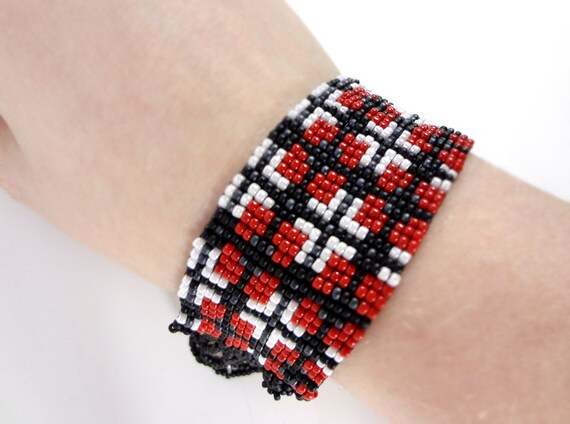 Be sure to check out the other team entries and vote for your favorite until the 27th of January at our team blog. You might find yourself speaking in a Scottish accent after a wee bit o' browsin'. ;-)
Tagged: beading, bracelet, competition, contest, etsy, europe, handmade, plaid, Scotland, scottish, tartan